Beardo competed in season one, total drama island. He got 14th place. He is played by Jakerbraker123. He has black hair and black eyes. In episode 1, he forms an rivalry with Scott. He currently doesn't have any friends or relationships.
Total Drama Island
Edit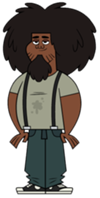 Ep. 1- Welcome to Wawanakwa
Edit
Beardo arrives on the dock with Owen and Ella. He is put on The Killer Bass. During the challenge, he didn't want to jump because he said the water would ruin his headphones. Scott complains About this. At the elimination ceremony, he is voted out.
Ad blocker interference detected!
Wikia is a free-to-use site that makes money from advertising. We have a modified experience for viewers using ad blockers

Wikia is not accessible if you've made further modifications. Remove the custom ad blocker rule(s) and the page will load as expected.