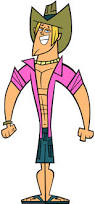 Geoff competed in season 1, Total Drama Island. He is played by TDstuff2. He has blonde hair and blue eyes. He currently doesn't have any relationships, friends, or enemies.
Total Drama Island
Edit
Ep. 1- Welcome to Wawanakwa
Edit
Geoff arrives on the dock with Dakota and Sugar. He says that he wants to party. He is put on the Screaming Gophers. He is the third jumper on his team during the challenge and his team won the challenge.
Ep. 2- Dodge This!
Edit
At the end of the challenge, it is Geoff, LeShawna, and Owen vs. Shawn. Shawn throws a ball at him. His team wins the challenge.
Ad blocker interference detected!
Wikia is a free-to-use site that makes money from advertising. We have a modified experience for viewers using ad blockers

Wikia is not accessible if you've made further modifications. Remove the custom ad blocker rule(s) and the page will load as expected.