LeShawna played in season 1, total drama island. She is played by Robby Fowler. She has black hair and brown eyes. She makes an alliance with B in episode 1 of Total Drama Island. She currently doesn't have any relationships or enemies.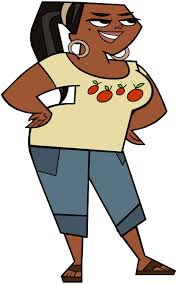 Total Drama Island
Edit
Ep. 1- Welcome to Wawanakwa
Edit
LeShawna arrives on the dock with Cody and Scott. She states "LeShawna's in the house!" She makes a confessional about needing an alliance to make it far in the game. She then confronts B that she wants to be in an alliance with her. B agrees. She is put on The Screaming Gophers. She is the fourth jumper on her team during the challenge and her team won the challenge.
Ep. 2- Dodge This!
Edit
At the end of the challenge, it is LeShawna, Owen, and Geoff vs. Shawn. Shawn throws a ball at her. Her team won the challenge.
Ad blocker interference detected!
Wikia is a free-to-use site that makes money from advertising. We have a modified experience for viewers using ad blockers

Wikia is not accessible if you've made further modifications. Remove the custom ad blocker rule(s) and the page will load as expected.